Personalized Pet Products, Custom Engraved Pet Gifts, & Pet Memorial Plaques
Affordable personalization & custom engraving services for dog, cat, and pet promotional products - MA, RI, & beyond
We can custom engrave or laser print almost any pet product on the market. Animal lovers and pet owners can customize all of their pet products with pet names, nicknames, pictures, etc., to give these everyday pet items a personal touch that will bring a smile to all pet lovers who see them.
Whether personalizing dog tags, pet food & water bowls, cat & dog photo frames, or other pet products, we can help to create a personal pet product that you will love.
Personalized Pet Memorial Plaques
Personalized pet memorial plaques help pet owners remember their loved animals who have passed on. We can custom engrave or laser print pet memorial testimonials on wall plaques, desktop plaques, or free-standing plaques. Remember your beloved dog, cat, or other pet with a heartfelt pet memorial plaque that will always keep the pet in your thoughts.
Affordable Promotional Pet Products
We also offer a large selection of promotional pet products that can be custom engraved or laser printed with your company or organization's name, logo, and branding. Promotional pet products are great for trade show product giveaways, marketing campaigns, fundraisers, community events, and many other special occasions.
Unique Personalized Pet Product Gift Ideas
Personalized dog & cat drinkware
Personalized pet photo frames
Custom pet litter scoopers
Personalized dog & cat bowls
Laser engraved pet ID tags
Personalized dog treat jars
Personalized wooden pet urns
Engraved reflective dog collars
Personalized dog & cat mugs
Personalized dog bones jars
Custom engraved pet toys
Laser printed pet signage
Personalized pet memorial plaques
Personalized ceramic pet bowls
Pet memory glass photo frames
Personalized pet glass ornaments
Eco-friendly pet gifts
Personalized dog tags
Personalized cat & dog keychains
Custom engraved pet accessories
Custom pet Christmas ornaments
Personalized dog leashes
Photos: Custom Engraved Pet Products & Personalized Pet Memorial Plaques
Click or tap each photo for a larger view. Use arrow keys to toggle through photos.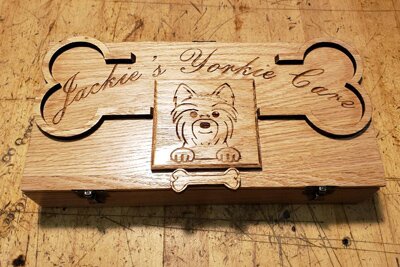 Please contact us with any questions about custom engraving & laser printing services for personalizing unique pet gifts, pet promotional products, and pet memorial plaques!
Call 508-207-8362
• Custom Engraving Services
• We Personalize & Engrave Gifts
• Promotional Product Engraving